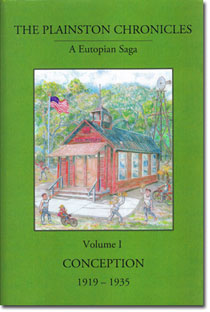 E.M. "Mac" Swengel, PhD, has a vision based on a lifetime of experience as an educator.

Dr. Swengel calls it "family-style" education and it comes to life in The Plainston Chronicles, available for purchase from Amazon.
---
Top/right, begins the full treatise describing this system of education and its unique benefits.


"Under One Roof"
THE BENIGN SCHOOL
by Edwin M. Swengel, Ph.D

---
Introduction

Where there is no vision, the people perish.
– Proverbs, 29:18. King James Version

Human history is in essence a history of ideas.
H.G. Wells, Outline of History, 1920, Ch. 40

Human history becomes more and more a race between education and catastrophe.
Ibid., Ch. 41

You can't solve a problem with the same kind of thinking that created it.
Albert Einstein

Can you believe that somewhere in the United States exists a very small group of persons with the power to set in motion forces that could prevent the catastrophe that Wells prophesied?

Can you guess what this group is? (No one I have asked this question has yet identified it.)