E.M. "Mac" Swengel, Ph.D.
Associate Professor of Education
School of Education
United States International University
San Diego, California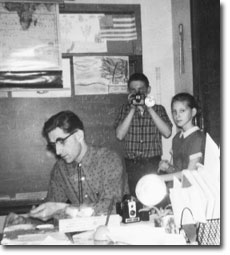 "Mac" Swengel, 1958
PROFESSIONAL RESUME
1934—1938 University of Illinois, Urbana:
B.A. in History; Minors in English, Education, and Music
1938—1958 Teacher: Social Science, English, Music (band and chorus) at secondary level, music at elementary level, in rural communities, East Central Illinois
1958—1960 Principal and teacher of grades 4-8 in two-room school, Collison, IL (pop. 60)
1960—1963 Teacher, Social Science and English, Oakwood Twp. H.S., Oakwood, IL
1963 Received Master of Education degree, University of Illinois, Urbana
1963—1968 Took American Montessori Society Training Course in Los Angeles; helped establish a Montessori School and trained there; Champaign, IL. Received AMS teaching certificate in 1964. Administrator of Montessori schools and teacher training programs in the Los Angeles area.
1966—1967 Teaching Assistant and Supervisor of Remedial Trainees,
UCLA Psychology Clinic School (Fernald)
1968—1969 Research Assistant, Center for Evaluation of Instructional Programs, UCLA
1965—1969 Doctoral program, UCLA Graduate School of Education: Major: Curriculum Development; Minor: Developmental Psychology. Ph.D. in Education, 1969;
Thesis: "A Study of the Effects of Reducing Rote Memory Requirements on Phonics Learning of Five-Year-Old Children."
1969—1976 Professor of Education, United States International University (USIU), San Diego. Taught social, psychological, and philosophical foundation courses; designed and taught Reading Specialist Credential graduate course; served as clinical professor in daily on-site supervision of student teachers in elementary, middle, and secondary classes, in urban and suburban districts.
1974 Published YAK Phonics: A New Approach, based on UCLA doctoral research and 5 years of field tests.