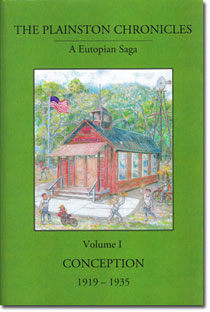 By
E.M. "Mac" Swengel, Ph.D.

Associate Professor of Education
School of Education
United States International University
San Diego, California














Musical Swengel Family
(left to right)
Marcia, Jane, Mac, Elizabeth, Lockie














Swengel Schoolhouse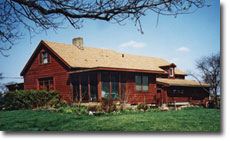 Schoolhouse Remodeled for
Swengel Family Home











Swengel Family - 1948
Educator, Joan Larimore

As an educator in a public school classroom for thirty years, then working with school districts as a consultant, a certified drug and alcohol prevention specialist, certified ESL instructor, early childhood education specialist, and a long time advocate of common sense changes in public education, picking up Dr. Edwin M. Swengel's book, "The Plainston Chronicles" was an exercise in "Ho hum, what new little bandaid twist will we hear about now?!"

What a surprise to find myself deeply engrossed right from the author's "regret" page! Not only is Dr. Swengel's style lyrical, but it hit very close to home as I recognized techniques I have used in primary classes.

Disenchantment with rigid curriculum over the years caused me to gradually train students to be partners in their learning. As the characters in the book discovered, children are capable of far more than we think and they were soon helping each other and discussing tutoring skills.

True learning accelerated, children learned skills in many areas, and discipline problems disappeared. This technique left me with time to work individually with students. Did I call it "family-style" learning? No, but that's what it was.

Is this book "pie in the sky"? Definitely not, as it worked miracles in my classrooms. Hopefully many school administrators, teachers, and parents will read and enjoy this book and call for changes. I heartily encourage the discovery of this book!

---
Concerned Citizen, April Fletcher

I just finished the first volume of "The Plainston Chronicles" and am suffering from withdrawals. I have ordered the second volume, and hope that the third comes out by the time I finish the second.

Reading the book made me feel I was living in the community so vividly pictured by the author and becoming acquainted with all of its citizens.

The author has conveyed the personalities of the players clearly and, like members of my own family and community of friends, I remained interested in what they would be doing and what would be happening in their lives next.

I felt throughout the book that I had an open window looking back into history and gaining "first-hand" knowledge of the impacts of the depression on people's lives, and how some people, if not many, must have survived that difficult time by depending on one another.

But the book is just as relevant for today's world. The author clearly knows the educational system-- and its shortcomings-- well, having been a teacher himself, and he has described it and its internal and community politics clearly. The Chronicles offer a new paradigm for youth education that many of us have already experienced as adults in our own lives, one based on the fact that we learn best when we teach others.

The author proposes that children are no different. He offers a solution to the depersonalization and detachment that has come to dominate the world of many young people, and a means of overcoming the anti-school sentiment and alienation that develops in those who are unable to function well in our existing competitive educational system-- and who give up and drop out.

Through the personalities of the players all the obstacles to implementing any changes to the old educational paradigm are presented, thus offering a road-map to anticipating opposition to change.

Since our educational system is clearly failing many of our youth, it is long past time for a new paradigm. The question is whether there are those who will have the courage to try it. Perhaps some of the readers of the Plainston Chronicles will find that courage. I hope so.

One of the things I most appreciated about the book, aside from the fact that I enjoyed reading it tremendously, is that I could fit reading it over time and in between other tasks and still find l had not lost any threads. Since my reading time is in short supply and broken up, the size of this first volume therefore was not intimidating, nor was I ever tempted to not finish the book.

I highly recommend this book to all readers who enjoy a good read, but especially to teachers, parents of school-age children, and all those both within and outside of the educational system who know our educational system is failing many students but who aren't sure how it should or could be changed.

---

Teacher, Beau Randt

Dr. Swengel has written a compelling "treatise" (in story form) on education in our country over a period of time, 1919 through 1951, in the central plains of the U.S.

First, I wish I had read this before my practice teaching in the public school systems. It explores concepts of teaching that are so sensible and attentive to the sensitivities of young students one must ask why this is not being done now... in all the schools?

This delightful and enlightening work should be required reading for teaching candidates. If you had told me I would be reading two volumes on education last month, I probably wouldn't have believed you. The writing is enticing and joyful as he spins the stories of his characters. Dr. Swengel draws the reader further and further into the dramas of Plainston. But be forewarned … Volume I leads to Volume II!

Yes, there is a Volume II and I found myself ordering it within twenty-four hours of finishing the first Volume.

* * *

This reader has come here after reading Volume I of the Plainston Chronicles. It was only days until I had ordered Volume II.

Dr Swengel's powers as an educator and his skills as a crafter of stories are both evident. By the end of Volume II, I was thoroughly engrossed in the educational evolution of Plainston. It is clear Dr. Swengel's "research" in creating this work was a lifetime of love for education and what it gives us as a society. It is a work with many levels and a power of inspiration.

Yes, there is a Volume III. Yes, I'll be reading it."